View this message online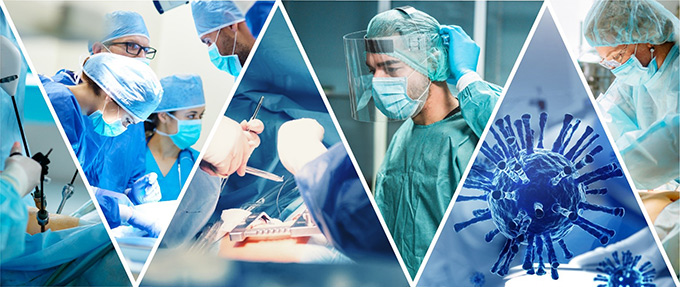 Welcome to the spring 2021 edition of Alumni Ties, the U of T Department of Surgery's alumni newsletter.
Although much feels uncertain these days, I am proud that our Department has remained steadfast in its commitment to discovery and innovation. As the University of Toronto celebrates the 100th anniversary of the discovery of insulin – and humanity celebrates the world's latest ground-breaking medical advancements – I am inspired by the brilliant minds behind these and other lifesaving discoveries.
While you may be familiar with the history behind the discovery of insulin, a lesser-known fact about Sir Frederick Banting is that he trained as a surgeon and, in fact, was a resident based at the Hospital for Sick Children. Upon learning this, I could not help but think about how his surgical training might have prepared him to make such discovery.
As surgeons, we are uniquely positioned to be innovators. Every day, we face complex problems that threaten the lives of our patients, and in resolving them, we identify important questions from our practice that require further investigation. We also understand the realities of what is necessary to translate solutions from the lab to a patient's bedside. And most importantly, we boldly integrate new innovations into our clinical care – advancing the practice of medicine and enhancing health care.
Surgeons who have trained at the University of Toronto have historically been proponents of incredible innovations leading to a number of "world firsts" over the last century. I am proud of our Department's rich history of discovery and innovation, and I remain in awe of the entrepreneurial spirit that is alive within our community today. As fellow alumni of this Department, I encourage you to share your stories and accomplishments with us, and to help inspire the next generation of surgical innovators.
Sincerely,
Dr. James Rutka, OC, O Ont, MD, PhD, FRCSC, FACS, FAANS
R.S. McLaughlin Professor and Chair of the Department of Surgery
Temerty Faculty of Medicine, University of Toronto
P.S. Please join us on Friday, May 7th for the Department of Surgery's 47th annual Gallie Day: Surgeons in Innovation and Discovery.
STORIES
| | Along with his team at UHN, Dr. Marcelo Cypel (PMGE '06, MSC '08, PGME '11) – Associate Professor of Surgery, Division of Thoracic Surgery and Surgical Director, University Health Network Transplant Program – recently performed Canada's first double lung transplant on a COVID-19 patient whose lungs were severely scarred by the disease. |
| --- | --- |
| | Dr. Michael A.S. Jewett, a Professor of Urology in the Department of Surgery in the Temerty Faculty of Medicine, was named a Member of the Order of Canada for his life-saving innovations in surgical oncology and for his advocacy of patient-centred clinical care. Jewett is the benefactor of the Dr. Michael Jewett Graduate Award, awarded annually to a graduate student enrolled in a PhD program associated with the Division of Urology. |
| --- | --- |
| | For the second consecutive year, the 2021 US News and World Report has ranked the Department of Surgery at the University of Toronto fourth best in the world. The U.S. News & World Report ranking assessed 1,500 universities from 87 countries through the lens of research performance, as measured by indicators such as global and regional reputations, citations, scholarly publications, international collaboration and citation impact. Data was obtained from Clarivate Analytics. |
| --- | --- |
| | Division of Orthopaedic Surgery alumni Drs. Maryse Bouchard, Andrea Chan, Rina Jain, Jason Shrouder-Henry, Sarah Ward and Kurt Weiss participated in an online discussion on the topic of equity, diversity and inclusion (EDI). They shared their perspectives on how to develop a diverse workforce, and discussed what we can do collectively to promote EDI in orthopaedic surgery and best serve diverse patient populations. |
| --- | --- |
DEPARTMENT TRIBUTES
In Memory
| | Dr. Dragan (Dan) Stojimirovic, passed away unexpectedly at Toronto General Hospital, on Sunday, April 11, 2021. As Program Administrator in the Division of Orthopaedic Surgery, he was beloved by all who came through our program. Dan was the true heart and soul of the Division and will always be remembered fondly by everyone who met him. |
| --- | --- |
| | The University has partnered with Sunnybrook in raising funds to establish the Todd Mainprize Chair in Neurosurgery. The Chair will provide funding for innovative neurosurgical research and educational opportunities, while honouring a neurosurgeon and colleague whose impact on our specialty will be felt forever. The University will be matching donations up to $250,000. |
| --- | --- |
In Honour
| | The Condliffe Family has generously established a new fund in honour of Dr. Nancy H. McKee, a renowned surgeon-scientist in the Division of Plastic, Reconstructive & Aesthetic Surgery. The Dr. Nancy H. McKee Chair's Priority Fund will support divisional priorities in the reconstructive surgical area. |
| --- | --- |
Tess Weber Retirement
| | Congratulations to Tess Weber, who will be retiring on April 30th after 40 years of service. Tess began her career at U of T working in the Human Resources Department. In 1988, she was recruited to the Department of Surgery as the Clinical Fellowship Coordinator and was subsequently promoted to the position of Postgraduate Coordinator. During her tenure in the Department, Tess has worked with four different Postgraduate Directors. The Department owes Tess an enormous debt of gratitude and appreciates all her hard work and the many contributions she has made over the past many years. |
| --- | --- |
Events
Alumni Reunion: Home Edition
May 26-30, 2021
Our biggest alumni event of the year is going online for 2021. From mind-expanding lectures to virtual tours, family activities to class e-meetups, the fun of U of T Alumni Reunion comes to a couch near you. Register now.
Interested in Organizing a Virtual Class Reunion?
Reunions are a perfect opportunity to reconnect with old friends and your alma mater. If you would like to organize your reunion as an Alumni Reunion Ambassador, learn more about how the Advancement Office can help.

Congratulations, alumni! Times Higher Education (London, UK) ranks your Temerty Faculty of Medicine #6 in the world for clinical, pre-clinical and health programs.
The Temerty Faculty of Medicine's Advancement Office connects our community of alumni, volunteers and donors to meaningful and transformative initiatives advancing health and health care.