Young Alumni
Networking Series

Mark your calendars for an evening of networking and fun. Catch up with old friends and make new connections while enjoying refreshments and delicious food. Gushi Foods and Daan Go Sweets are back again this year!

September, 20, 2019
6pm - 9pm
Leslie Dan Faculty of Pharmacy
144 College Street, Atrium





Donor support enriches student experience, says Class of 1T5 Duke Boampong

"Upon reflection of our time as students, I think we all have fond memories and can appreciate the countless activities that greatly enriched our student experiences thanks to donor support. I truly believe that these opportunities are integral parts of the student experience that ultimately help shape the practitioners that we become."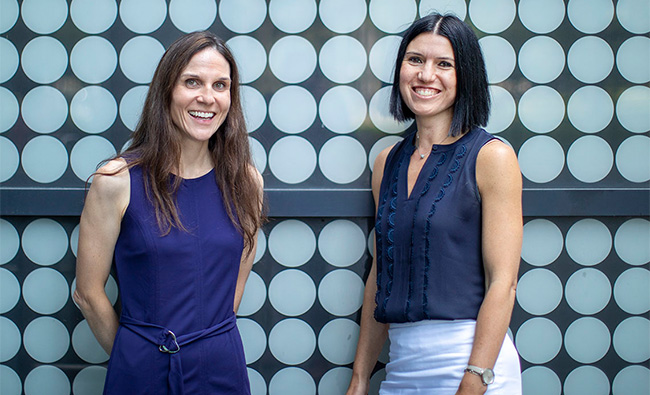 U of T researchers launch in-depth evaluation of strategies to curb 'hallway medicine' in Ontario
Leslie Dan Faculty of Pharmacy's Sara Guilcher and IHPME's Kerry Kuluski are launching a multi-pronged research project that aims to help the province of Ontario identify solutions to tackle the problem of "hallway medicine" in hospitals.






"One of the highlights of my career" Preceptor prioritizes student success and improved patient care.
Heather Hadden, a primary care pharmacist in Mississauga, is passionate about pharmacy and the impact that pharmacists can have on patient care. She applies this same passion to teaching U of T students, recently earning her the Preceptor of the Year award.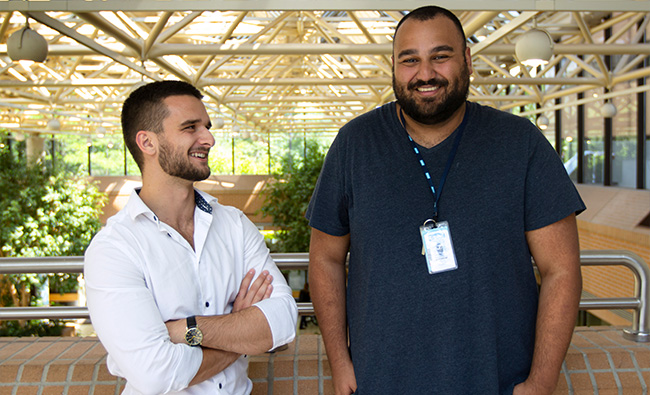 "Our profession is really looking bright," says hospital pharmacist and preceptor
This past May, Baycrest Hospital pharmacist Andrew Messiha was paired with Jesse Ropat, a second year pharmacy student from the Leslie Dan Faculty of Pharmacy for an Early Practice Experience rotation.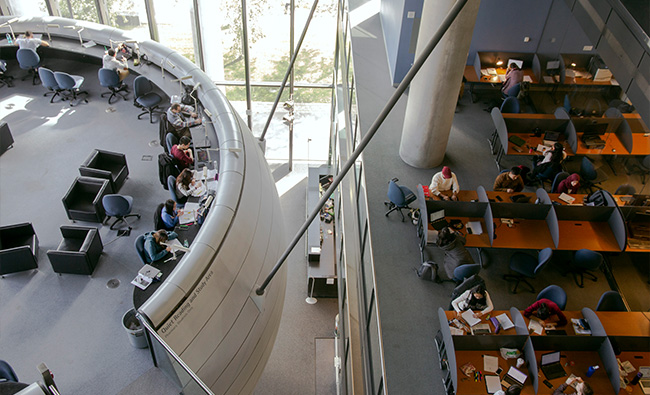 When you donate to the Leslie Dan Faculty of Pharmacy, you extend your impact beyond what any one person could accomplish alone. Annual donations make a real difference in our students' lives and learning. Here is how your support can make a difference:
$20 funds 2 Friday coffee hour breaks hosted by the Pharmaceutical Sciences Graduate Student Association for graduate students to connect and build community with their fellow Master's and PhD peers at the Faculty.


$50 subsidizes 5 pharmacy students' Healthcare Toastmasters' membership fees, which enables them to develop their presentation skills.


$100 funds a student's registration cost to attend the Ontario Pharmacy Student Integrative Summit (OPSIS) organized by Leslie Dan Faculty of Pharmacy and University of Waterloo pharmacy students to foster leadership skills and build community amongst pharmacy students.


$250 helps fund the operation of 1 student led club, such as the Pharmacy Awareness for Geriatrics Club, for one year to encourage team work and to also serve the needs of the wider community.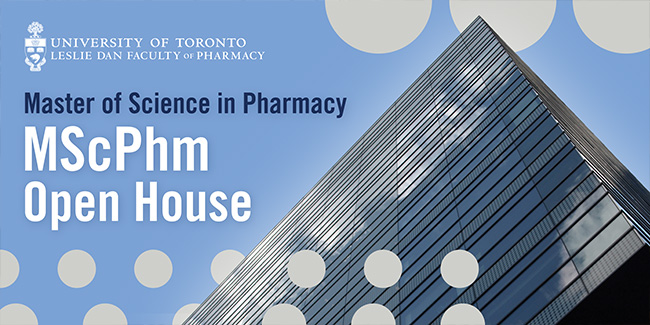 MScPhm Open House
Wednesday, September 18, 20196p.m. - 8p.m.
PB 850, Leslie Dan Faculty of Pharmacy

You are invited to attend an open house to learn more about our newly created Master of Science in Pharmacy (MScPhm). This innovative program aims to provide students with a unique clinical, classroom and research experience. The MScPhm is aimed at practicing pharmacists who are seeking to further their clinical, teaching, research and leadership skills.



Check out current job opportunities on the Leslie Dan Faculty of Pharmacy job board. Also connect with us at alumni.pharmacy@utoronto.ca if you'd like to post a position.






Infectious Diseases/Critical Care
Pharmacotherapy Conference

September 28, 2019



The reality is that critically ill patients often present with infectious diseases that can seriously complicate treatment. An aging population, complex life-sustaining technology, the wide-spread use of immunomodulatory therapies and a limited pipeline of antimicrobials are all factors contributing to these issues.

Here's an opportunity to get the latest, practical information on how to treat serious infections to optimize patient outcomes.



Available Now - Second Edition of the Guidebook on Diabetes Management

After more than a year of hard work curating information from the latest clinical practice guidelines in glycemic management, blood pressure, lipids, antiplatelet agents, nutrition, exercise and smoking cessation and combining this together with expert opinion and practical advice, the Second Edition of the Guidebook on Diabetes Management is now available!



We want to hear from you!
Stories, updates, publications, upcoming class reunion notices are welcome at alumni.pharmacy@utoronto.ca
Mailing Address
Leslie Dan Faculty of Pharmacy
Leslie L. Dan Pharmacy Building
144 College Street
Toronto, ON M5S 3M2

Update your preferences or unsubscribe from this list