"What you need to know as a pharmacist about Biosimilars"

You're invited to our inaugural Alumni and Networking Educations Series: "What you need to know as a pharmacist about Biosimilars" on Wednesday, March 6, 2019 from 5:30 p.m. to 7:30 p.m.

Join us for a presentation on the safety and efficacy of biosimilars entitled "Biosimilars: Oncology and Beyond"
by Dr. Eitan Amir,
Princess Margaret Cancer Centre and the Faculty of Medicine at the University of Toronto







"Be open to change and opportunity" says 7T8 President

Among her many contributions, Doris Kalamut helped establish the Class of 7T8 Award through the Boundless Promise program. Recently, the 7T8s hit $48,150 in funds raised to support pharmacy students.




Honorary White Coat Recipient

This past January, Anne Milochik, Class of 1971 received the honorary white coat at the 2019 Induction Ceremony for the Class of 2T2. Thank you Anne for your dedicated philanthropy to your alma mater through your giving and volunteerism.







Mapping the use of pharmacy services across Ontario

Associate professor Suzanne Cadarette is using healthcare administrative databases to provide baseline information about the use of community pharmacy services in different parts of the province and how uptake by pharmacies and patients has changed over time.




Toronto Star Doctors' Notes: Cancer treatment might be turning a corner

Stéphane Angers, Associate Dean of Research, explores recent advances and breakthroughs in cancer research that are leading to a turning point in cancer treatment.







Alumni Q&A:
Alex Mok
Since graduating with his Class of 1T8 in June 2018, Alex Mok has started working as a Compliance Specialist at Sanofi Canada, where he liaises with internal and external partners to drive accountability across Sanofi Canada.

Alex continues to be involved with the Faculty as a Co-Class President for Life for the Class of 1T8 and as a Young Alumni Committee member.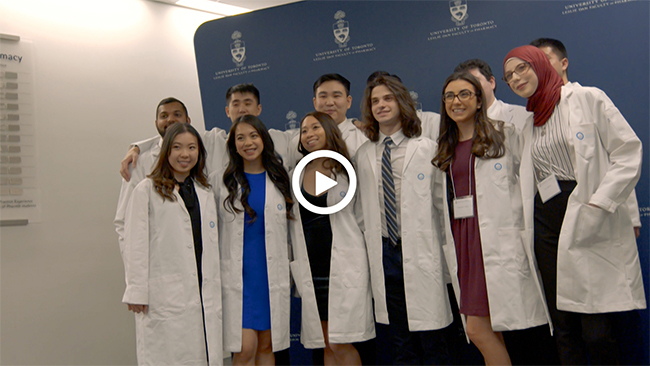 Class of 2T2 White Coat Ceremony
Welcome to the profession of Pharmacy, class of 2T2! Check out highlights from our annual White coat Ceremony! A special thanks to the Ontario Pharmacists Association for donating the white coats.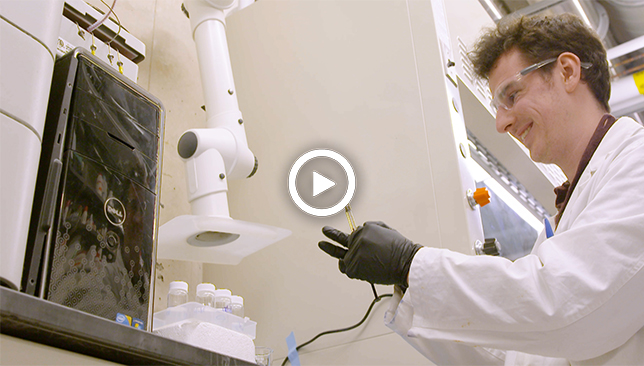 Jack Bufton saves big with DIY microfluidics device
Pharmaceutical Chemistry undergraduate student Jack Bufton has created an affordable alternative to expensive molecule generating microfluidics devices, with the goal of saving time and money when testing new chemotherapy nanomedicines.


Thank you to all our donors! Because of you, we continue to provide one of the most innovative and leading-edge pharmacy programs in the world to save lives and improve patient care. When you make a gift to the Faculty - you extend your impact beyond what any one person can accomplish alone.
Click below to give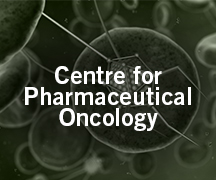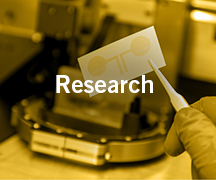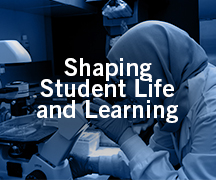 BOUNDLESS PROMISE AWARD EXTENSION
We have extended the Boundless Promise Matching Program
U of T will match the annual income generated by Boundless Promise Awards established at the Faculty ($25,000 and up) that are designated for undergraduate, needs-based financial awards. Since 2000, U of T's undergraduate enrolment has increased by 58 per cent, creating greater demand for needs-based awards.






Class of 9T9
20th Reunion
May 25, 2019
3:30p.m. - 7:30p.m.
Leslie Dan Faculty of Pharmacy

For more information, please contact:

Cynthia Leung
cyndy_leung@hotmail.com




Golden T Dinner


May 30, 2019
6p.m. – 9p.m.
University of Toronto

Honouring Classes
5T4, 5T9 and 6T9
Invites to follow in March 2019




U of T Alumni Night


June 4, 2019
5:30p.m. - 6:30p.m.
Metro Toronto Convention Centre, South Building

Meet our incoming Dean, Dr. Kishor Wasan, and network with fellow alumni during the 2019 CPhA and OPA Joint Conference.




Questions? Email us at



Become a Preceptor at the IMAGINE Clinic
The IMAGINE Clinic is a student-run inter-professional clinic located at Queen and Bathurst and is open on Saturdays (excluding long weekends).



We want to hear from you!
Stories, updates, publications, upcoming class reunion notices are welcome at alumni.pharmacy@utoronto.ca
Mailing Address
Leslie Dan Faculty of Pharmacy
Leslie L. Dan Pharmacy Building
144 College Street
Toronto, ON M5S 3M2

Update your preferences or unsubscribe from this list