Click to view this email online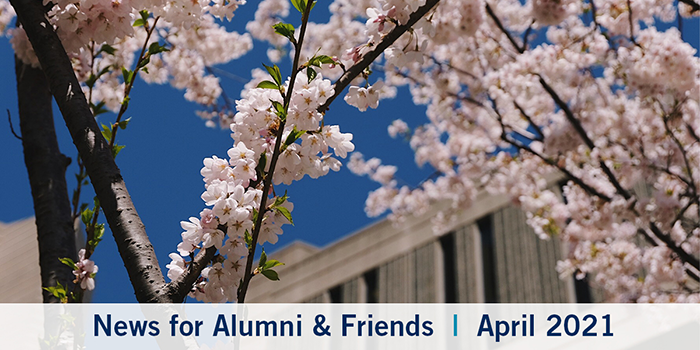 In this edition:
So much is happening at Arts & Science and we're excited to share the news with you. Dean Melanie Woodin shares an update on fall planning, we welcome a world-renowned astrophysicist as the new director of the Canadian Institute of Theoretical Astrophysics (CITA), and we celebrate the first translations of Dante's Inferno into Indigenous languages. Read about an alumnus' fictional predictions of life in 2033 and an alumna's hopes for a brighter future post-pandemic.

Plus, generous support for the Faculty of Arts & Science, benefits for alumni, a wide range of events and more! And don't forget to register for Alumni Reunion Home Edition.
---
Safety is paramount as Arts & Science plans for fall semester

In response to U of T President Meric Gertler's optimism that most academic activities will take place on campus in fall 2021, Arts & Science began planning for a return to in-person learning. Dean Melanie Woodin explains what that could look like in the first of her monthly updates to come.
---
New Acceleration Consortium to make U of T a global centre in innovation

U of T has launched the Acceleration Consortium, a new global coalition of academia, industry and government that will use artificial intelligence and robotics to accelerate the design and discovery of materials that don't yet exist.

"Artificial intelligence is changing the way we do science," said Alán Aspuru-Guzik, director of the Acceleration Consortium.
---
Arts & Science, U of T place high in global university rankings

Arts & Science subjects place high in the latest annual QS University Rankings. U of T ranked in the top 50 globally in 46 subjects, more than any other university in the world, including first in Canada in five broad fields and among the best globally in a number of others.
---
Statement of solidarity against anti-Asian racism

Shocked and saddened by the recent tragic events in Atlanta, Georgia and the reports of increased anti-Asian racism, violence and harassment here in Toronto and around the world, Dean Melanie Woodin released a statement of solidarity against anti-Asian racism.
Connect with us on LinkedIn and stay up to date with the latest alumni stories and news. You can also join us on Facebook!
A&S student Riley Yesno's passion for education leads her beyond legacy of residential schools

Soon-to-be A&S alumna Riley Yesno speaks about her complicated relationship with education as an Indigenous person, her struggle to reconnect with her community and culture so far from home, and what's next.
---
Unique new project features the world's first Indigenous translations of Dante's Inferno

The historic first known translations of Italian poet Dante Alighieri's masterpiece The Divine Comedy into Indigenous languages made their debut in a landmark video celebration of the 700th anniversary of his death.

The translations are part of Toronto Salutes Dante — an initiative led by U of T's Department of Italian Studies.
---
Explore the future — Washington, D.C. in 2033 — in alumnus' new novel

Though the manuscript was finished in 2019, alumnus Michael Kaufman's The Last Exit shares uncomfortable similarities with events that exploded in the following months — from a rapidly spreading virus and devastating forest fires to an uprising against police brutality and racism.
---
Alumna sets sights on a brighter post- pandemic future for creators

Alumna Emilia King is leading a "recovery cohort" that advises and mentors artists and creators impacted by the pandemic, from fledgling podcasters and film makers to content entrepreneurs harnessing new social media technologies.

"We saw a really big opportunity to empower creators trying to rise up against the challenges presented by COVID," says King.
---
U of T working with Palette Skills to address Canada's skills gap

Palette Skills, a leading national non-profit, is partnering with the University of Toronto and other leading Canadian academic and business organizations to address the growing skills gap in the Canadian economy. This consortium includes Arts & Science and will help drive Canada's economic recovery by creating programs to rapidly upskill Canadians for high-demand roles in the fastest-growing parts of the economy.
DeepMind scholars are driving the future of AI

Meet the first four recipients of the new DeepMind graduate scholarships in the Department of Computer Science. Established by U.K.-based artificial intelligence company DeepMind, the scholarship program aims to support under-represented students specializing in artificial intelligence.

Aparna Balagopalan, Gabriela Morgenshtern, Skylar Hao and Lana El Sanyoura speak about the importance of the DeepMind scholarship to their work.




U of T moves closer to trash-free tomorrow with PortsToronto gift

Assistant Professor Chelsea Rochman's efforts to create a trash-free tomorrow have received a tremendous boost in the form of a $150,000-pledge from PortsToronto.

Rochman, who recently received the President's Impact Award, works to reduce aquatic waste in Toronto, exploring innovative litter-capturing technologies and engaging the public on the issue of plastic pollution. The U of T Trash Team, a community outreach group she founded, has received support from PortsToronto for years.



Registration now open for Reunion Home Edition

■ May 26 to 30

Our biggest alumni event of the year is going online for 2021. From mind-expanding lectures to virtual tours, family activities to class e-meetups, the fun of U of T Alumni Reunion comes to a couch near you.

Sign up for updates
Implications of COVID-19: Providing Affordable Housing in a Post-Pandemic World

■ May 5, 7 pm

Join the U of T Association of Geography Alumni and the Toronto Undergraduate Geography Society at a panel discussion on affordable housing in a post-pandemic world. The need for affordable housing has only intensified during COVID-19. Featuring five expert panelists.

Register here

Writers: Words & Wisdom

■ June 7, 7 pm

Save the date for this upcoming fireside chat with four alumna authors, Souvankham Thammavongsa, Kerry Clare, Faye Guenther and Rebecca Silver Slayter. Hosted by the Department of English, join them as they reminisce about creative writing classes at U of T and read from their new works.

Register here

Arts & Science Convocation Watch Party

■ June 23, 11:50 am

Join Arts & Science Dean Melanie Woodin as she celebrates the Class of 2021 with the University of Toronto community — faculty, staff, alumni, students and graduands. More info to come — and don't forget to make popcorn!

Register here
Need career coaching? We have alumni discounts

For alumni with a few years' experience in the workforce, U of T has partnered with the Canadian Centre for Brief Coaching to support your professional development. Alumni receive 30 per cent off career coaching, designed for those changing careers, returning to work after a leave, or just in need of a fresh perspective.

For leaders looking to improve their own or their team's performance, or implement sustainable change in their organization, U of T alumni receive close to 45 per cent off leadership coaching.
---
Expand your horizons from a device near you

Keep learning and exploring on our virtual hub for U of T alumni. U of T experts from all three campuses share their insights on everything from masks to mindfulness, cosmology to careers. Pumped to get moving? Looking for something to do from home? Just curious? It's all online and we're always adding new lectures, events, concerts, workouts and more.