Click to view this email online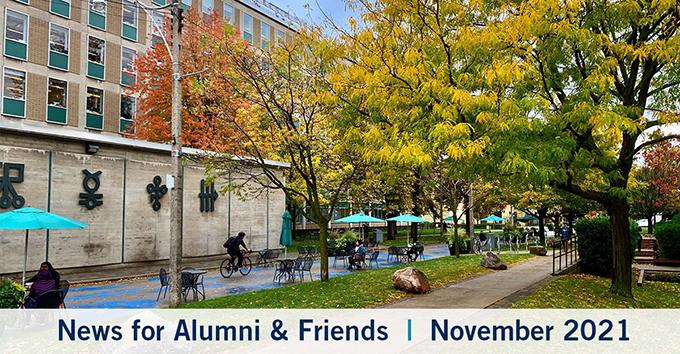 In this edition:
With the Fall term well underway, there is plenty of exciting news to share at the Faculty of Arts & Science. After a very challenging year and a half, we're thrilled to be learning and teaching on our beautiful campus again. In addressing the first A&S Council meeting of the 2021–22 academic year, Dean Melanie Woodin recognized the Arts & Science community for its hard work, flexibility, dedication and support to make this transition possible.

We're also celebrating the achievements of all our graduands as part of fall convocation 2021, welcoming the new director of the Munk School of Global Affairs & Public Policy, recognizing the impact of scholarships, and so much more!
Writer, teacher, 'knowledge carrier': U of T remembers Lee Maracle
Celebrated Indigenous author Lee Maracle is being remembered by U of T as an inspirational instructor, adviser, activist and mentor to students — and as someone whose pen helped draw attention to the need for decolonization in Canada. Maracle passed away November 11 at age 71.
---
Sidney Smith Hall transformation will allow faculty growth well into the future
Sidney Smith Hall is set to undergo a transformation that will create an outstanding space for innovative learning, teaching and research in U of T's Arts & Science. "Our goal is to create a contemporary, accessible and state-of-the-art space for our students, staff and faculty, and the wider community," says Melanie Woodin, dean of Arts & Science.
---
Congratulations to the Class of 2021
The Arts & Science community is so proud of its Class of 2021! In the weeks leading up to fall convocation on November 18, we heard stories of lessons learned, creative pursuits, overcoming seemingly impossible obstacles and plenty of words of wisdom for students just starting out. "You don't have to stick to what you know," says Georgia Maxwell, who is celebrating earning her master's degree in English literature.
---
Alumnus helping create role models for Black, underrepresented youth
An Arts & Science alumnus and his life partner have established the Robert Davis and Joseph Chen Access and Diversity Bursary at A&S to support students from Black and other underrepresented populations. Through a separate bequest, they're ensuring their impact will continue to be felt for a long time to come.
---
U of T to divest from fossil fuel investments, create climate-positive campus
As part of sustainability measures announced in October, the University of Toronto is divesting from all direct investments in fossil fuel companies within the next 12 months, and from indirect investments by no later than 2030.
Connect with us on LinkedIn and stay up to date with the latest alumni stories and news. You can also join us on Facebook!
---
Tunnel-like structure may surround our solar system, U of T astronomer says
An Arts & Science astronomer's research suggests the solar system is surrounded by a magnetic tunnel that can be seen in radio waves.

Jennifer West is making a scientific case that two bright structures seen on opposite sides of the sky are connected and made of rope-like filaments.
---
Leading political scientist named as new Munk School director
Professor Peter Loewen — a leading political scientist — is the new director of the Munk School of Global Affairs & Public Affairs. Loewen's research focuses primarily on how politicians and citizens can make better choices, how governments can address the disruption of technology and harness its opportunities, and the politics of COVID-19.
---
English prof's book builds on The Divine Comedy
A U of T English professor has published Dante's Indiana, the second novel of his trilogy based on poet Dante Alighieri's The Divine Comedy.

Randy Boyagoda, also Arts & Science vice-dean, undergraduate, says the original trilogy — which comprises Inferno (hell), Purgatorio (purgatory) and Paradiso (heaven) — still has the power to connect with those who have lost their way.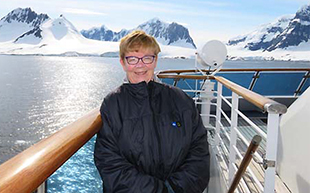 Alumna breaks down barriers with new Indigenous scholarships
A&S alumna Joan McCalla is establishing a scholarship for Indigenous students pursuing their master's degree.

"Indigenous communities have faced numerous barriers and obstacles and I want to break down financial obstacles these students may be facing," says McCalla.

The scholarship will be about acknowledging the past while looking to the future.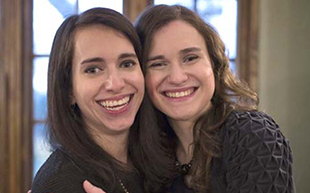 Rare disorder research gets boost
Arts & Science researchers trying to solve a rare disorder — which leaves newborns with profound hearing loss and gradually robs them of their vision — are celebrating a recent funding boost.

Led by Vincent Tropepe, a professor of cell and systems biology and Arts & Science vice-dean, research, U of T researchers have received a $50,000 gift from the Usher 1F Collaborative, a U.S.-based non-profit.
Four new scholarships created to promote equity and inclusion
The Centre for Drama, Theatre & Performance Studies is putting equity, diversity and inclusion on the centre stage with four new scholarships for Black, Indigenous and other racialized students.

The awards reflect the centre's ongoing efforts to create a more inclusive space for students, faculty and staff.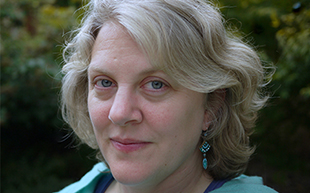 Medical anthropologist Janelle Taylor is part of US$56M NIH grant to study Alzheimer's disease
Arts & Science medical anthropologist Janelle Taylor is helping drive a long-term study aimed at creating a greater understanding of dementia and Alzheimer's disease and improving prevention and treatment. The Adult Changes in Thought (ACT) project was recently awarded a five-year grant of US$56 million by the National Institute on Aging, part of the National Institutes of Health.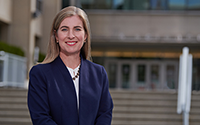 Arts & Science convocation watch party

■ November 18, 11:55 am

Cheer on the Class of 2021! A&S Dean Melanie Woodin invites you to join fellow A&S faculty, staff, alumni and graduands to watch the 2021 Fall U of T Convocation.

Join the watch party!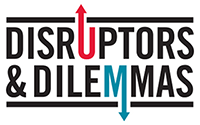 Net-zero: Not a Zero-Sum Game

■ November 24, 5:30 pm

Join us for a special edition of the Disruptors & Dilemmas speaker series featuring Joseph Heath, a professor in Arts & Science's Department of Philosophy, and others.

Register here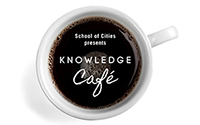 Knowledge Café

■ Throughout the 2021-22 academic year

Grab a coffee and engage in conversations on creating more equitable, sustainable and prosperous cities. Organized by the School of Cities.

Register here
Students and new grads: take your next steps with us
Students and new graduates are invited to the Next Steps Conference from January 25 to 27. The online conference is a great way to build professional networks, explore a variety of careers and prepare for life after graduation. With a range of speakers, career exploration panels and networking opportunities, Next Steps helps participants explore their options — including those they didn't even know they had.


Produced by the Office of Communications & Public Affairs,
for the Office of Advancement.

Contact Communications at: artsci.communications@utoronto.ca
Contact Advancement at: alumni@artsci.utoronto.ca | 416-978-4179
Support Arts & Science here: donate.utoronto.ca/artsandscience


This e-mail was sent to teresinha.costa@utoronto.ca
Update contact information
Opt out of future messages

---
The University of Toronto respects your privacy. We do not rent, trade or sell our mailing lists.
Copyright © 2021 University of Toronto. All rights reserved. This e-mail was sent to teresinha.costa@utoronto.ca