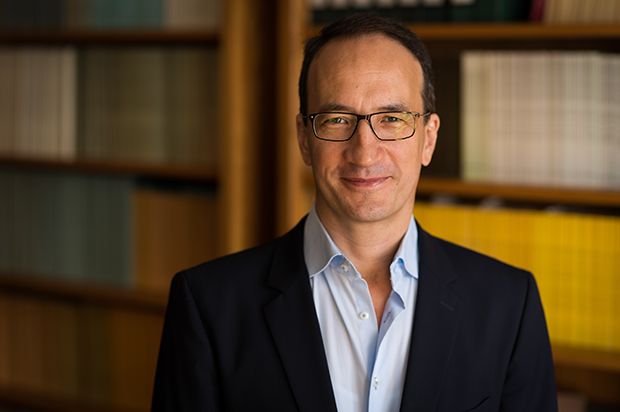 Chair's Introduction

Dear Alumni and Friends,

It feels great to write this note in the midst of a Fall semester full of face-to-face classes, in-person events, and generally bustling hallways. As you know, I believe philosophy thrives on community and interpersonal exchange, and fully returning to campus this year has strengthened that conviction. I am especially delighted to welcome new colleagues on all three campuses under these circumstances, as well as a new cohort of graduate students.

Pandemic or not, as the items below will indicate, we have kept busy and have some exciting outcomes to show for it. Yet not all the news has proven positive. Just as we were able to finally commemorate our dear departed colleague Margie Morrison with a conference in her honour, we also had to say goodbye to two more former faculty members: The department deeply mourns the loss of Kate Morgan and Barry Brown.

As we move further into the term, I do hope you can join us for one of our many upcoming talks or events; we have some exciting things planned. As always, please check the Department of Philosophy website or social media for more news and upcoming events. We cannot wait to see you in person soon!

— Martin Pickavé
Chair and Graduate Chair of Philosophy
(Faculty of Arts & Science, St. George Campus)

Welcoming New Faculty
This Fall term, the department welcomed new full-time faculty members on all three campuses: on the St. George campus, Sara Aronowitz (pictured), who works on memory, learning, and imagination, joined our ranks, as did Reza Hadisi, who has a particular interest in the Medieval Arabic and Persian traditions, and Steven Coyne, who secured a three-year joint position with the Department of Computer Science to support the Embedded Ethics Education Initiative. The UTM campus welcomed Nilanjan Das, a specialist in Sanskrit philosophy, while UTSC added to their roster the moral philosopher Nathan Howard and Eric Mathison, who works in biomedical ethics. Also (re)joining us this year are eight part-time assistant professors in the teaching stream.

Freshly Minted PhDs
Congratulations to our latest PhDs: Rory Harder defended his thesis "Joint Action and Communication, with a Focus on Demonstratives," written under the supervision of Imogen Dickie and Nate Charlow. Kamil Majcherek brought to completion his dissertation "Medieval Metaphysics of Artefacts, 1250-1500," supervised by Martin Pickavé. "Roles and the Filtering of Reasons," written under the supervision of Joseph Heath, brought Hamish Russell's doctoral degree to a close. Cheryl Misak served as supervisor for two recent PhD graduates: Griffin Klemick, with "How to Be a Pragmatist in the End: Objectivity, Skepticism, and the Demands of Agency"; and Melissa Rees (pictured), with "Placebos—Their Nature and Ethical Implications."
Aristotle Contest Winners
No issue proves too challenging: in this year's Aristotle Contest, we asked Canadian high school philosophers to consider immortality, the curtailment of personal liberties, and perjury. They responded with verve, creativity, and precision. The first prize ($500) went to Aarah Shahjahan, the second ($400) to William Wang, and the third ($300) to Natalie Oulikhanian. An honourable mention went to the work of Max Long. Read the winning essays and find out more on our website.
New Fellowship in AI
The department is grateful for a generous donation made by Charles Morgan. For the coming five years, the Pronovost Morgan Family Foundation Fellowship in Ethical AI will financially support academically outstanding graduate students working in the fields of artificial intelligence or big data. The fellowship aids the Department of Philosophy in pursuing one of its foremost goals in relation to its graduate programs: the support of excellence and innovative research initiative among junior philosophers to allow them to focus on their work and complete their studies in a timely manner. A sincere thank-you to Charles Morgan and all our donors.
Staff Updates
Our capable, hilarious business officer Joanne Hurley (pictured) has retired. We miss her but are delighted she now finally has more time for herself. Our long-serving graduate administrator, Margaret Opoku-Pare, has also announced her retirement for early 2023. Belinda Piercy has momentarily transferred to a new role in the grad office, while Rachel O'Keefe serves as acting assistant to the chair.

In Memoriam
The department has been saddened by the recent loss of Professor Emerita Kathryn P. Morgan (pictured), a renowned feminist philosopher and bioethicist who co-founded the Women and Gender Studies Institute, and of Professor Emeritus Barry F. Brown, who began his career as a specialist of Thomas Aquinas, but switched to the then emergent field of bioethics, contributing to the Joint Centre for Bioethics.
Current Searches
To maintain and enhance the unique breadth and depth of departmental expertise, we are seeking applicants for three faculty positions: on the St. George campus, we have an opening in Ethics at the rank of associate or full professor. We are also looking to fill two assistant professor positions: one in Social or Political Philosophy at UTM, the other in the History of Modern Philosophy at UTSC. Thanks for your help in spreading the word!
Produced by the Office of Communications & Public Affairs, for the Office of Advancement.
The University of Toronto respects your privacy. We do not rent, trade, or sell our mailing lists. Copyright © 2022 University of Toronto. All rights reserved. This e-mail was sent to petra.dreiser@utoronto.ca. To unsubscribe, please contact us. 1000082495

View this email online Past issues are archived