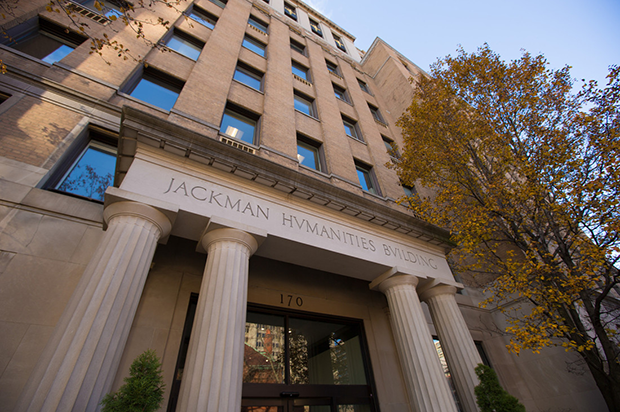 Chair's Introduction

Dear Alumni and Friends,

I cherish the opportunity to look back at the past six months in writing this note of welcome — it's a source of joy and pride for me to remember the many varied accomplishments of our community. Awards for both faculty members and students highlight the department's vibrancy and ongoing engagement with essential questions. That vitality also manifests in our new faculty members and graduates, whom we are excited to watch go out into the world and advance in their chosen careers. And it brings particular satisfaction to see our longstanding friend Michael Walsh recognized for his peerless efforts with an honorary degree from the University of Toronto.

Of course, not all the news is positive. We lost two cherished former faculty members who passed away recently. And last month, we bid farewell to a pillar of the department and our graduate administrator of almost 20 years, Margaret Opoku-Pare, who is beginning her well-deserved retirement. We cannot thank her enough for her outstanding service and dedication.

I would be remiss if I didn't alert you to our busy event schedule of the coming months. From the Jerome S. Simon Lectures to the Ontario Ethics Bowl to celebrating the work of Mohan Matthen and Tom Hurka, we have a wide variety of conferences and research talks to match every interest.

I look forward to personally welcoming you at many of these events.

— Martin Pickavé
Chair and Graduate Chair of Philosophy
(Faculty of Arts & Science, St. George Campus)

Welcome, Avia Pasternak
We are thrilled to now have Avia Pasternak as a member of the department. The political philosopher, whose work focuses on the responsibilities of citizens as members of their state, joined us on January 1, 2023, as a tenured associate professor at UTSC, as well as in the Graduate Department on the St. George campus.

Thank You, Margaret Opoku-Pare
After almost two decades of dedicated service, the department's cherished graduate administrator, Margaret Opoku-Pare, began her well-deserved retirement on February 1, 2023. A fount of knowledge and reliability, Margaret touched the lives of countless graduate students, faculty members, and staff. We already miss her calm steadiness!
Recent PhDs
We celebrate our latest PhD graduates: In late fall 2022, Jack Beaulieu, whose thesis titled "Absence in Nyāya and Mīmāṃsā" had been supervised by Jonardon Ganeri, passed his doctoral defense, as did John Bunke ("Metaphysics in Context"), Seyed Yarandi (pictured; "Moral Words: Masks for Many Faces"), and Lisa Doerksen ("Finding Oneself in the World"), who had all worked under the supervision of Gurpreet Rattan. At the end of 2022, Michaela Manson ("Mind and Prejudice: Cognitive Improvement in the Philosophies of René Descartes and Mary Astell") joined them as a freshly minted PhD, following her work with supervisor Donald Ainslie.

In Memoriam
We mourn the loss of two former faculty members whose work and personal commitments shaped the Department of Philosophy: Professor Emeritus John. G. Slater (pictured), a renowned expert of the life and work of Bertrand Russell and a former chair of the department, passed away on November 19, 2022, having been hospitalized with COVID-19. Professor Emeritus FRSC Fred F. Wilson, who specialized in the philosophy of science and the history of early modern philosophy, succumbed to complications from Parkinson's disease on January 10, 2023. The department remains grateful for the significant contributions of both these colleagues and friends.
Honorary Degree
Michael Walsh, an outstanding friend of the department, ranks among 14 eminent individuals who will receive an honorary degree from the University of Toronto this year. Walsh is recognized for his commitment to the Thomas Fisher Rare Book Library, especially his transformative gift of the Walsh Philosophy Collection.

2023 Aristotle Contest
We once again encourage the youngest philosophers to hone and test their skills of written argument in this year's Aristotle Contest, an essay competition for high school students in Canada. The three top-rated papers will win cash prizes. Submission deadline is June 20, 2023. Find prompts, guidelines, and further details on the contest website.
The Department of Philosophy at the University of Toronto is committed to fostering strong relationships with all our alumni, current students, future students, and extended family. There are many ways to give back and stay in touch with our vibrant community of philosophers.

Email Communications Officer Petra Dreiser to learn more.

Produced by the Office of Communications & Public Affairs, for the Office of Advancement.